Move-in
Information about move-in  –  program EXCHANGE for the students of VSE with a confirmed accommodation at VSE dormitories in academic year 2018/2019 and term of moving in: January 30, 2019.
From that date onwards, an accommodation is booked  and a dormitory fee is charged until June 14, 2019. You have to pay a part of your rent (minimum 10 000 CZK) or full rent before your arrival i.e., until January 30, 2019. Until move-in day at the dormitory, there have to be paid of accommodation deposit CZK 5000 and a minimum of CZK 10 000 or the full rent on your main account in ISKAM.
If students would like to come to Prague earlier, they can stay at the hotel accommodation. More details concerning  the hotel accommodation, see at the website: hotel.vse.cz/en
Move into the dormitory later than January 30, 2019 or outside of office hours is possible, but after announcement to the Dormitory Manager or Assistant Dormitory Manager of the building where you will be staying:
When you arrive at the dormitory:

Please submit:

identity card (student part of EU, students should bring their valid passports/ID). It must be the same ID/passport as you fill in the ISKAM.
colour full- face photograph of 35 x 30 mm (an identity-card type)
visa (if you need a visa to visit the Czech Republic)
At the reception you will receive keys, Contract on Accommodation (signed already in ISKAM) and List of Defects (handover protocol – only at the dormitory Jarov III. F). Your room will be taken over upon signing of the Contract on Accommodation.
Contract on Accommodation:

please read the full text of the Contract on Accommodation before you arrive, because moving in can be time-consuming. You can find the documents in:
ISKAM – card Contracts and General terms
Website – Forms

List of Defects (handover protocol):

you will complete List of Defects upon entry to the room
as soon as you enter the room, check the room and its furnishings immediately for proper condition fit for use
record any defects in the List of Defects and submit it at the reception (reception is opened nonstop)
if you arrive at night, submit the handover protocol after you are having a rest
you will be responsible for defects not recorded in the List of Defects
if you fail to submit the List of Defects in 24 hours after your arrival, you will breach the Contract on Accommodation

Report for Foreign Police:

Report for Foreign Police serves to announce your stay at the dormitories to the Foreign Police
it is obligatory to report your stay
please use capital letters when filling the form
the form must be fill out completely and legibly
After you sign your contract and fill the Report for Foreign Police, you will receive a dormitory card. Please submit your dormitory card (see bellow) at the reception, when you would like to use services or borrow keys (study room, gyms, washing machines etc.) at the reception. Dormitory card serves as your dormitory ID until Orientation Week (OW) where you will obtain university ID card.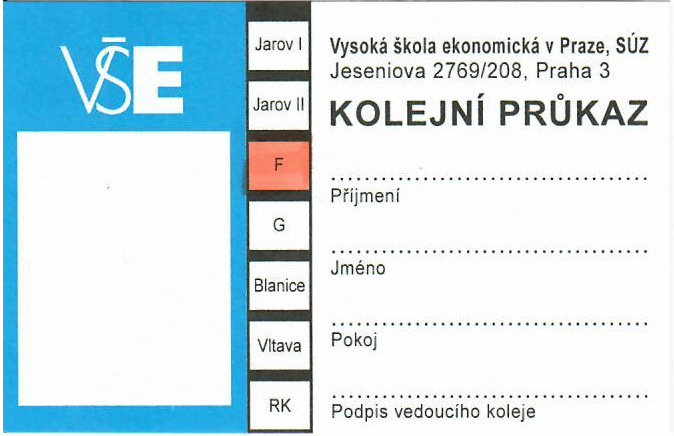 University ID card serves to prove your identity. Please show it to a SUZ VSE representative when entering the dormitories at the reception, in the office, bed linen storage and all institutions of SÚZ. University ID cards (see bellow) contains chip which opens the front door (main entrance).
Blue chip card is intended for graduates and students of other schools. If student successfully finish studies and become a graduate student, the internet connection and University ID card won´t work. In this case, the graduate student must generate a new internet password at the reception of dormitory. The generation of new internet password is free of charge. For a new access card, come to the office or bedlinen depot. The price of the blue chip card is 300 CZK.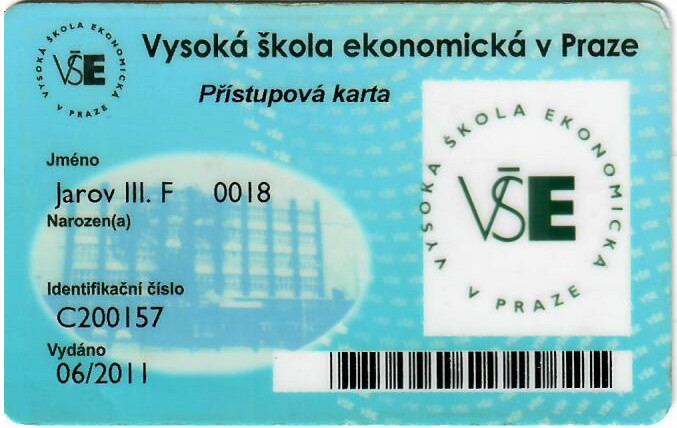 All the required stuff for move in will be prepared in your room.
Bed line will be prepared in your room without towels, toiletries (toilet paper, soap, shampoo etc.), hairdryer and dishes.